Lilburn Lecture 2019: Breath of the Birds
The Revival of Taonga Puoro: 
Dame Gillian Whitehead
I am here tonight to represent an organisation fondly known as ATLET.

This is an acronym for the Alexander Turnbull Library Endowment Trust. It has been around for 85 years -longer than the National Library.

Some people laugh about using yet another acronym – especially since ATLET is relatively unknown. It appears that these people are more comfortable with calling it "The Trust." As someone with a background in trusts, I know that there are tens of thousands of trusts registered in New Zealand.

It's time for ATLET to come out of the shadows of just being another Trust to become a special place for attracting, acknowledging and studying the precious resources we have that are part of our rich culture and heritage.

ATLET's main function over the years has been to manage financial assets – first its own investment portfolio and later the investment portfolios of other organisations with a relationship to the Alexander Turnbull Library including the portfolios of the Friends of the Alexander Turnbull Library and Lilburn.

ATLET's biggest investment portfolio is of the Lilburn Trust. We trustees are determined to maximise the return on investment so that the Lilburn Trust can meet its objectives with even more activities.

A key function of Lilburn Trust it to appoint and fund the Lilburn Research Fellowship.

Another key function is to host the Lilburn Lecture series, which started in 2013. Tonight's function is the 7th Lilburn Lecture. Note that all 6 previous lectures are recorded on the RNZ website.

ATLET also manages the revenue from the Lilburn copyright and has recently contracted Songbroker to manage copyright processes on ATLET's behalf.

By the way, ATLET is the proud co-sponsor of the Pukana exhibition with the Te Puna Foundation. It is one of the highlights of the Alexander Turnbull Library centenary period which is conveniently spread over two years from 2018 to 2020. ATLET has agreed to co-host a further exhibition to be opened next year.

So, what is ATLET? As its name suggests, it is a Trust. It was set up to be independent of the Alexander Turnbull Library itself. ATLET's purpose is to raise and provide funding for the research activities undertaken using the riches of the Alexander Turnbull collection.

Over the years, ATLET has assisted the Alexander Turnbull Library in various ways including assistance with publications focused on research.

It is so important for our country's wellbeing that our heritage is so well preserved here at the Alexander Turnbull Library.

In the view of the current ATLET Trustees, the benefits from assisting the Turnbull Library with its ability to offer research opportunities has never been stronger, particularly with the issues around digitization. Even with the development of acquisition practices and cloud storage using electronic media, resources are still required to organise digital material to ensure it is easy to search and research.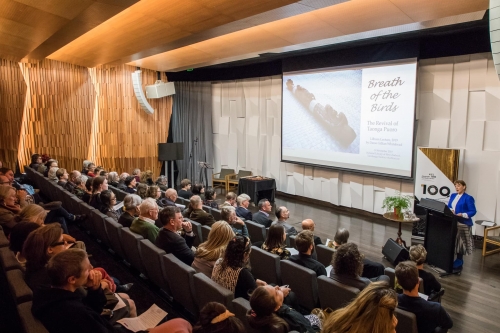 So, in the last 12 months or so ATLET has 'upped its game' and with the adoption of a new strategic plan and the appointment of new trustees. We are committed to a more ambitious approach to grow the pot from which funding can be made available. While of course the Trustees want ATLET to be able to support more of its funding for research, we are also keen to attract the attention of people throughout New Zealand to the special programmes offered by our partner organisations, including the Lilburn.

I want to acknowledge the current trustees of ATLET so you are aware of the dedicated group working the spread the word about the value of investing in the ATLET, Lilburn, the Friends and the Library. John Meads is the chair, I am the deputy chair. Margaret Kawharu from Auckland is with us tonight. Professor Erik Olssen from Dunedin is a long-standing member of the ATLET Board. We are proud to announce our two new trustees, firstly Mr Neil Plimmer from Wellington. Many of you will know about Neil and his proven experience in promoting and raising funds for the arts. Also new to the trust is Associate Professor Kerry Taylor from Massey University in Palmerston North who brings great international as well as national connections with university researchers.

In addition, we have committed to appointing an Administrator and Fundraiser to assist the Board to promote how ATLET and its partners preserve and develop the rich heritage of our country. You notice my wording. I have said that our plan is to increase both ATLET's and its partners' portfolios. This doesn't need to be a competitive approach – there are lots of people out there who are interested in culture from many diverse perspectives.

So, you are going to hear much more about ATLET in the months to come. When you do, think about how much poorer our lives would be without the beautiful music of Lilburn and that of our special speaker this evening. When you do, think about the musical and other cultural assets you have and how you might work together with us to increase Lilburn's investment portfolio. With a larger capital base, there can be more research using our musical assets. And, don't forget too that there are forms of investment other than financial contributions – contributions to collections, availability as supervisors – we will be coming at this from many angles and perspectives.

Ours is a very diverse culture with its tapestry of perspectives. It's unique in the way that it enables different art forms to thrive and that's what is driving ATLET to make a difference.

Thank you all for being here tonight.

 

Suzanne Snively
Deputy Chair, ATLET